Some lovely friends/siblings recently sent me copious amounts of
quinoa
. I've been trying to find recipes for it online, but there just aren't enough. Last night we tried a really good turmeric version and I brought it into work today, where everyone remarked that it looks a lot like couscous. So I started wondering if I couldn't just find couscous recipes and use my beloved quinoa instead. Here is the result of my fantastic experiment tonight (which my husband said was the best quinoa recipe he's had to date!).
International Coconut Shrimp with Quinoa
(vaguely based on Rachel Ray's
recipe
)
Ingredients:
1 cup quinoa
1 ½ cup stock
1 tbs. butter
1 lime, zested and juiced
1 cup shredded basil leaves
1 ½ lbs shrimp, shelled and deveined
1 red pepper, thinly sliced into long strips
3 cloves garlic
1 inch piece of fresh ginger, minced
3 small red chilies, minced with seeds
4 scallions, whites and greens, chopped
1 tbs (?) madras curry powder
½ tsp turmeric
½ tsp coriander
½ tsp dried basil
1 cup coconut milk
1 cup peas
1 large bunch of spinach, washed and chopped
Peanuts, chopped and unsalted (optional)
Directions:
Combine stock, butter and lime zest in a small pot and bring to a boil. Add quinoa and let simmer, covered, for about 10 minutes or until fully cooked, stirring occasionally. Add basil strips and lime juice from half the lime . Let stand.
Meanwhile heat oil in a pan and cook red pepper and the shrimp until it is pink on both sides. Add the garlic, ginger, chilies and scallions until fragrant. Add spices and let them fry for half a minute before adding coconut milk, peas and spinach. Sauce should be a light yellow, so add more curry powder if necessary. Continue cooking until the spinach is wilted, approximately 5 minutes.
Serve the shrimp curry over quinoa with the remainder of the lime juice drizzled on top. Garnish with chopped peanuts.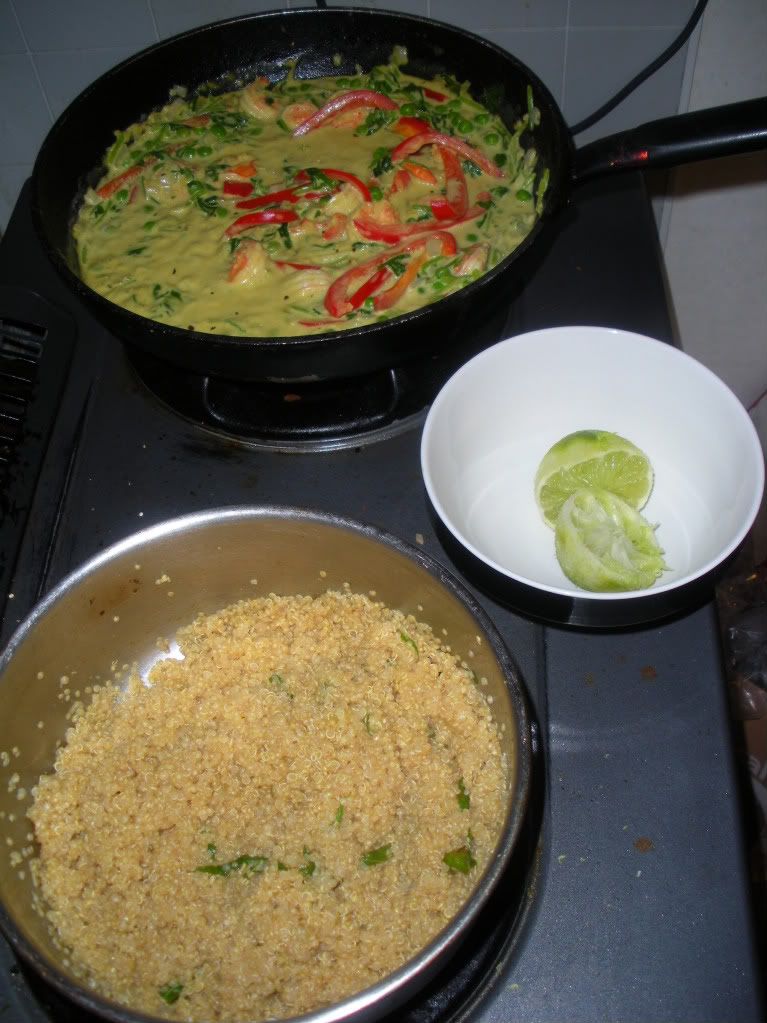 In 2004, the United States accused Ecuador, Thailand and India of selling shrimp below fair value prices in the American market. The accusation was overruled in 2008, much to the delight of this recipe which calls for ingredients from all three countries and, of course, shrimp.